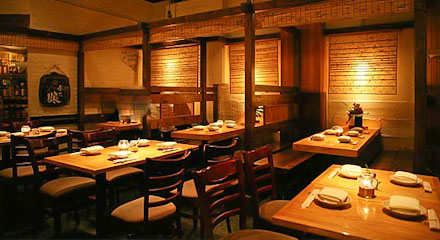 Sometimes you just want to get away from it all. And sometimes, partaking of heavy quantities of East Asian liquor is the way to do it.

Enter an office-building lobby on a nondescript block of 43rd Street, descend two flights of metal stairs, and follow the paper lanterns on the cinderblock walls. Behind a single door, a hostess greets you in what looks like a Rashomon set gone culinary.

Sakagura (translates as "brewery") is Manhattan's most authentic izakaya—a "sake drinking place" in Tokyo, where office-building basement restaurants are the norm. Sake barrels line the floors, giant wooden tanks double as bathrooms, and a black ceiling dotted with spotlights doubles as the sky. A well-kept secret for Japanese businessmen and the hard-core sake drinking set, Sakagura boasts over 220 varieties of sake, and everything can be had by the glass, even the 450 dollar bottle of Myokarangyoko, brewed only three times since the 1700s (it's like the Halley's Comet of alcohol).

For quiet business negotiations or secluded dates, grab a table in the back, partitioned with bamboo screens. The healthy buckwheat noodles, homemade each morning, taste too good to be good for you, and a must-try is the sashimi platter (ordering sushi here is like asking for pizza at Le Bernardin, and they don't have it anyway).

It's good to see that some things don't get lost in translation.