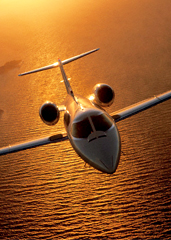 Hey, look at you.
All excited about hopping on a plane and skipping town for a few fun-filled days of holiday merriment.
Oh, and enjoy that layover in Pittsburgh. Should be great. And that guy sitting next to you eating a Hardee's Memphis BBQ Thickburger and Bluetoothing his mouth off. He's great, too.
Or better yet, skip all that and enjoy this instead...
Put your tray tables wherever the hell you want them in preparation for
BlackJet
, a new private jet service from an Uber guy (and some other guys) that makes ripping around in a luxury aircraft as easy as hailing a cab, accepting membership requests now.
Flying commercial is fine. Except that it's not fine. And seeing as that's the case, you'll be happy to hear that a crack team of professional pilots and flight attendants with a thing for smiling at you and being all attractive is now at your beck and call. Oh, and the jets they fly around in. Those, too.
You'll start by signing up. Then... well, then you just download the mobile app (due in early 2013) or hop on the site and tell them where you're going. They'll have a jet right out. It's kind of easy.
Bucket seats. Leather. Porterhouses. Bottles of Barolo. Moist towelettes. Taco seasoning. Just say the word... it's all there if you need it.
It's also there if you don't.
But you do. So that worked out.