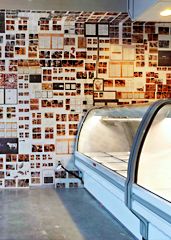 You can respect a guy with a mission.
Especially if that mission is to share his ribs, shoulders and tongue with you, wherever you go. (This'll make sense in a few more sentences, promise.)
Well, that guy with a mission finally has a place to call home...
Here's
4505 Meats Butcher Shop
, Ryan Farr's one-stop temple of meat and sausages and hot dogs and more meat, slated to open tomorrow on Mission.
This is the kind of neighborhood butcher shop you might find in Italy. A closet-sized storefront decked with glass-case fridges, freezers and a big chopping block that'll serve as the heart of the operation.
Look for the neon "Meat" sign in the window, the one with the flashing "M." (Get it? Repeating "meat" and "eat"...) Step inside. Study the wall-sized mural of the galleys of the
Whole Beast Butchery
cookbook to find inspiration (hint: a few legit recipes live there). Or chat with Ryan, who'll likely be at the butcher block, cutting up chicken parts—along with duck, lamb, goat, pig and the like—to order.
The cases will be stocked with just-prepped meat, smoked ham and sausages for a quick order-and-go situation. There's also a rotation of hot dogs like the
Piggie
(topped with smoked pork, white-bean chili and Carolina BBQ sauce) and the
'Zilla
(bacon-studded, topped with chicharrones and Namu kimchi).
You kind of have to earn a name like that.