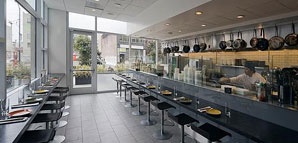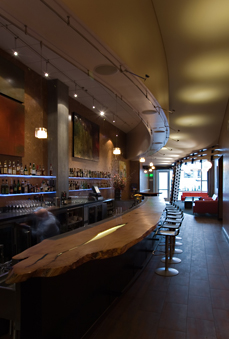 The art of naming a restaurant is often taken for granted.  
Usually it's something straightforward, then once in a blue moon you get something like Spotted Pig...  
Or
Heaven's Dog
—Charles Phan's first foray into Chinese food—opening Friday in the SoMa Grand.
Essentially the name symbolizes great success in Chinese—and when you've got a casual noodle bar by day and upscale cocktail lounge by night, the grand effect is set up to be just that—a one-stop shop for dining, drinking and general revelry.
If you opt for the evening session (and you should), bring a date, walk past the woven wood wall, and you'll drop into an intimate lounge with a 30-foot
cypress tree-trunk bar manned by an all-star cast of bartenders culled from Bourbon & Branch, Beretta, Flora and Zinnia.
 
Start with drinks inspired by Charles Baker's The Gentleman's Companion like the absinthe-spiked, Manhattan-esque Remember the Maine or the Pisco Apricot Tropical. Then get a few Belgian and German beers or Old World wines that pair nicely with the pork belly and duck-laden dishes from the market-fresh menu.
 
For a nightcap, grab a seat in the lounge by the bar, where you can look forward to more cocktails and a DJ spinning until late night (we are in SoMa, after all).
 
In other words, make a day and night of it.