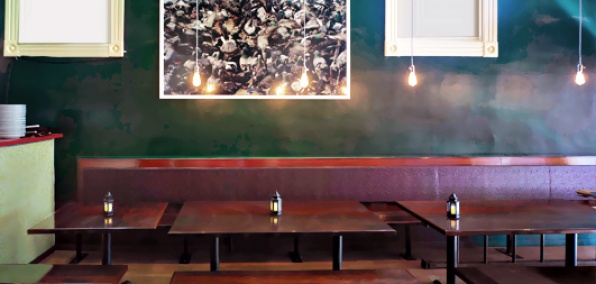 Inspiration can come from many places.

Pioneers like Steve Jobs. Artists like Picasso. Works of art like Miranda Kerr.

And, of course, pioneers of the cinematic arts like Will Ferrell...

Welcome Rickybobby, an all-American joint dishing out bacon-infused burgers and other wonders, opening tonight in the Lower Haight.

So, Talladega Nights. Great film. Shake 'n Bake, Jean Girard, all of it. Well, it inspired this place...'s name. And not much else. Instead, you'll find photos of Istanbul and maps of California (as an island, post–the Big One). Oh, and taxidermied cow heads and a pig with American flags for eyes. (Ricky Bobby would approve.)

You'll want to a) come hungry; b) bring some beer or wine (it's BYO for now); c) grab a spot at one of the big communal tables flanking the place. The guys responsible for this had a pop-up inside the Broken Record, and food-wise, nearly everything's the same. Crawfish grits. Sweet potatertots. The bacon-infused cheeseburger. The kind of thing you'd eat before a 500-mile NASCAR race (or just to fuel up for some holiday shopping).

One other thing. They'll have rotating weekly specials like rib eye. They call these specials the Baller's Corner.

Which we're pretty sure is the title of Will Ferrell's next movie.