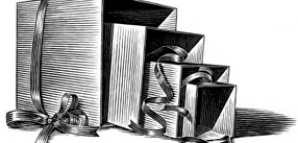 It's not hard to figure out what your mom wants from you—probably because she takes every opportunity to tell you.
It can get a little hard to filter through her complaints, though, so to help guide your Mother's Day efforts, we dispatched the UD Labs—field team to interview 100 of the most disgruntled mothers around in order to gain insight into the most significant issues plaguing mothers today.
We were able to distill the list down to five:
COMPLAINT #1: You Never Call
.
UD FIX
: Mom isn't hip to the ways you communicate these days...text, email (her three-pound "cell phone" can't do either). Get her the just-released blade-thin
Samsung SGH-P300
that's the size of a credit card, so she'll always have it on her to receive loving texts from you each day.
COMPLAINT #2: She Never Gets to See You
.
UD FIX
: The best gift is the gift of you...watching musical theatre acts with her. Take her to see the new Cirque du Soleil
Corteo
, whose theme is a festival procession imagined by a clown (playing on Mother's Day and until June 25). Or relive your '80s childhood with her at
The Wedding Singer
(leave the bad weed and shoulder pads behind).
COMPLAINT #3: When Are You Going to Settle Down and Give Her Grandchildren?
UD FIX
: You aren't dodging this minefield anytime soon, so redirect Mom's attention...get her a sponsorship for a less fortunate child from
Save The Children
. Choose a special kid for her to nurture and correspond with, and buy yourself a few extra years to be all the bachelor you know you can be.
COMPLAINT #4: Why Aren't You Saving More Money?
UD FIX
: Finally, you can show your mom there
is
such a thing as a free meal—at
Lentini
, a hidden UES Italian gem. Moms eat for free on Mother's Day (3pm-11pm). There is a limit of "one mother per table," so you'll have to leave your grandma, aunts and in-laws at home (for what otherwise would be the most cost-effective meal in history).
COMPLAINT #5: Do You Know How Long She Was in the Delivery Room For You?
UD FIX
: It's always only a matter of time before the 30-hours-of-labor story gets dusted off the shelf, so while no 60-minute massage can ever make up for her birthing you, some TLC can go a long way. Get her a spa certificate from
Spafinder.com
, which finds the best spas by region and treatment style, or go classic with a certificate to the
Red Door Spa
(with locations all over the country). Hopefully you've bought yourself some guilt-free living...for at least another month.