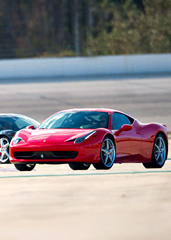 Opening the throttle on a Ferrari.
Taking hairpin turns in a Lamborghini.
Failing to signal in an Aston Martin.
All three: great alternatives to whatever you usually do for lunch.
Buckle up and say hello to the
Exotic Driving Experience
, your chance to get behind the wheel of some incredibly fast supercars for an afternoon, taking reservations now for February at Texas Motor Speedway.
Think of this like a nationally touring rental car service. One that travels around, stops at tracks, unloads
eight highly coveted sports cars
and lets you race them. Autos like the Lamborghini Gallardo and the Ferrari 458 Italia. Plus a handful of other cars you thought only existed in calendars.
This has holiday-gift-for-Dad/a-little-something-for-yourself written all over it. Start by booking your preferred car and time slot online. Then, when the day comes, take a deep breath/draw up a will and head to the track. Before you grab the wheel, you'll get a radio-equipped helmet and some tutelage from a driving instructor. Consider him your copilot (also, the guy who'll hold your coffee).
Then, just do what comes naturally. Rev the engine. Burn some rubber. Paddle shift into third and gun it through the turn.
Remember, hands at 10 and 2.