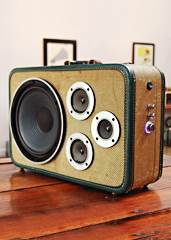 Suitcases. They're good at holding things. Like, really good at holding things.
Clothes. Crackers. Neatly stacked piles of unmarked bills. Doesn't really matter. If you've got a thing, a suitcase can hold it.
Oh, and also, if you've got an iPod, a suitcase can now play it...
Take a look at
Thumpers
, a collection of locally altered retro luggage that's been handsomely outfitted with 40-watt amps, available now at Curious Provisions at King Plow Arts Center.
On the surface, these pieces look like props from some TV show about advertising executives in the 1960s (scaly leather, brassy clasps, original handles). On the inside, well, these things kind of look like bombs (massive amps, foam insulation, rechargeable batteries). So, yeah, maybe don't try and fly with them this holiday season. Or ever.
Instead, order one and set it out by the tree this month. Then, when folks come over for a dinner party, plug your iPod/laptop into the jack, carefully adjust some knobs on the side and give your guests that knowing glance that says, yes, your stereo is a piece of carry-on luggage. And yes, it's time to start dancing.
Of course, if you require something extra from your case, you can have your valise modified to wirelessly stream music. Or function as a guitar amp.
Now if only they'd put wheels on it...