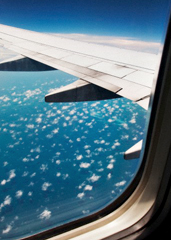 We assume you have plans toward the end of December.
You know, the ones with all the chestnuts and the open fires and the... sitting in airports waiting for delayed flights to board while eating Cinnabons and just, like, looking at people.
But hey, at least you won't have to worry about that last part this year...
Thanks in no small part to
KnowDelay
, a new web app that uses weather forecasts and a team of elves in white lab coats (presumably) to predict whether or not your flight will be delayed or canceled, available now.
What you have here is essentially a holiday-travel-friendly crystal ball for tracking flights. It notifies you if a delay is imminent and suggests alternate routes if need be.
Maybe you're booking a flight home. Maybe you're booking a flight far away from home. Either way, start by hitting the site and entering in a few details (flight number, airline, travel dates). Once you're within three days of your departure date, pull up the map with all the green and red dots on it. Those represent airports. Those are important.
Because if they're green, you're good. If they're red, you're screwed. Not really... the site automatically offers up a list of plan Bs if it looks like trouble ahead.
Plans C through L are in there, too.