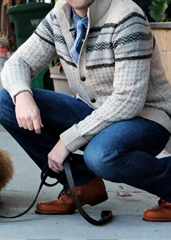 Look, we just want you to be happy.
And if that means you need to play hopscotch, then by all means, play some hopscotch. If it means eating a buttermilk biscuit, then do that, too. Hell, eat two.
But more likely, it just means getting a new lumberjack shirt and some chinos...
Consider your happiness pursued at
Life/After/Denim
, an LA-based garment slinger hell-bent on winterizing your body in the most becoming ways possible, online now.
So about that name. It's not that they hate denim or anything. It's just that, well, you already have enough of it. And this is the stuff that's meant to do it justice.
Take a look around. Hit that button that says "sweaters" and browse through some sweaters. There's a royal blue tournament crew in there that would look great next to a scotch glass. Don't forget that cabin-friendly Fair Isle cardigan, either. That would be a mistake.
Of course, you'll also run into the occasional black leather jacket and red-checkered button-down along the way. They call that last one the Jinglebell Shirt. It comes in colors like "South Pole Plaid Roman Red."
So... appropriate.