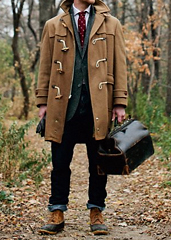 Happy Plaid Wednesday, everyone.
You know all about Plaid Wednesday, of course. It's the day of the year when the entire world goes shopping for a pristine cache of very rugged vintage American clothes.
Therefore, we're giving you a head start with
MidNorth Mercantile
, just a really well-honed collection of classic menswear from Minnesota, online now.
Yes, we know. An online shop that has classic tartan Levi's and Arrow shirts—to be certain, it's a veritable Plaid Wednesday miracle. But when it comes to the rest of your body, there's plenty to recommend from this little outlet.
You see, you're not the kind of person to dig through thrift stores, estate sales and the back of abandoned hunting lodges in Duluth searching for the best in well-preserved thunderbird sweaters. Well, these guys are. And then they'll sell them to you.
And if they happen to find a pair of World War II paratrooper boots that have seen some active duty, they'll make sure they're painstakingly restored to their former glory before parting with them. Go ahead, try them out in your next invasion of Europe.
Oh, and if you ever make it up to Minnesota, book an appointment with these guys. They also sideline in classic barber treatments, like hot shaves. Just ask for a guy named Mustache Mike.
You'll know him when you see him.