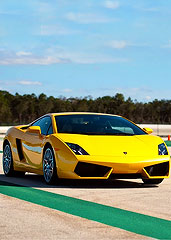 The holidays loom large.
Gifts will soon be purchased.
So if there were a time to focus on
your
wants, this would be it.
And by wants, we mean: driving a Ferrari at top speed around an empty racetrack in New Hampshire.
Self-gift with the
Exotic Driving Experience
, your chance to give some dream cars a run on an enclosed street-track in NH, taking reservations now for April, May and July.
To embrace your need for supercar speed, you'll head up to the New Hampshire Motor Speedway and choose from
six different privately owned supercars
—everything from a Ferrari 458 Italia and a Lamborghini Gallardo Superleggera to a Porsche 997 S.
On your day, you'll have about an hour of basic high-speed driving and maneuvering tutelage before getting behind the wheel. When you do, you'll hop in your whip and don a racing helmet (yes, with two-way radio). Then, with a NASCAR expert as copilot, you'll burn around a street-track of sharp turns, straightaways and curves in your road-jet (call it your
Gone in 60 Seconds
moment).
Depending on your package, you'll have roughly 30 minutes of track time to test out your chariot's cornering suspension and horsepower. We're told some have topped out at 130 mph.
Blasting Kenny Loggins while you do it: optional.