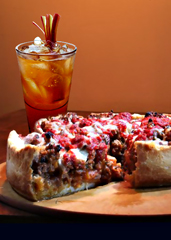 It's peculiar.
You
know
a mammoth feast is coming...
Still, every year, you seek Thanksgiving flavor with a passion that burns with the heat of a thousand suns.
You commissioned a turkey-filled Jell-O. You created stuffing ice cubes. And yesterday, you almost ate potpourri.
There's a better way, friend...
Hold your applause for
The Thanksgiving Pizza
and
The Thanksgiving Cocktail
, two breathtaking scientific achievements in the field of jamming the entire holiday into single consumable items. Naturally, you're just full of questions... Here are the answers.
Home
Thanksgiving Pizza:
L'asso in the East Village. It's part of their new Pizza Lab series of pizzas no sane person would attempt, which you can check out on
UD Perks
. This one will be available for "friendsgivings" starting tomorrow.
Thanksgiving Cocktail:
Hopeland in Carroll Gardens. You can drink this drink right now.
Table of Contents
TP:
Turkey sausage and sweet potato/cranberry hash with carrots, onion, celery, garlic and sage, topped with provolone and awe-inspiringly baked into a deep-dish pizza crust.
TC:
Vermont-maple-syrup-roasted sweet potatoes, brown sugar and dried cranberries infused into Everclear. Yes,
that
Everclear.
Thanksgivinginess
TP:
Picture a long communal table of pilgrims and Native Americans near a rock. A Plymouth rock. And one Italian guy.
TC:
Pretty much a 190-proof cornucopia. A ruff and doublet of autumnal flavor.
If we could've shoved a football in there somewhere, we would've.