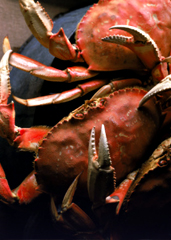 Days are darker earlier. Nights are... nightier for longer.
It can only mean one thing: huge sales for lightbulb manufacturers.
Also: crab season is here.
Which brings us to
Poppy's Crab Shack
, a new mobile operation serving up Dungeness crab up and down the coast, rolling out tomorrow.
This is huge: the next time you're on Highway 1, you'll be able to pick up fresh-off-the-boat crab the way it was meant to be eaten. (With reckless abandon.)
You know the drill.
Follow them on Twitter
. Then look for them at coastal locales south of the city from roughly Montara to Pescadero. (Say, Surfer's Beach or the Half Moon Bay Airport.) Or just keep a lookout for a trailer with a logo of a big orange crab slapped on the side.
Your reward: whole, steamed crab that you'll crack yourself and dip in full-cream salted butter. (It's optional, but who are we kidding.) Other, more civilized forms: butter-poached crab sandwiches, panko-crusted crab cakes, creamy crab chowder and crab Louie.
Most of the operation is built for takeout, but they'll occasionally park somewhere with picnic-bench seating. They'll also do private events in the city proper, and they're planning to hit SF full-on after the new year.
Great news for your resolution to eat more crab next year.