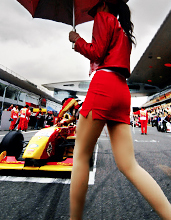 Monte Carlo... Budapest... Kuala Lumpur...
Those are a few of the cities where you could've seen a Formula 1 race this year.
But no, you've been holding out for someplace special. Someplace exotic.
Someplace... just a few hours south on 35.
Welcome to
The
Austin Grand Prix
, the new stateside F1 race bringing fast cars and hairpin turns to Austin this Friday through Sunday.
Below: three ways to Prix. Grandly.
Watch the thing trackside.

You're going to the new
Circuit of the Americas
, a massive 3.4-mile track that's housing 20 turns and about 120,000 people. So for optimal views/short beer lines, you'll want to arrive early. Or, you know, join a pit crew.
Watch the thing barside.
Or you could skip the race entirely and party at Austin Fan Fest. Yeah, that's a pretty solid backup plan. See, Downtown's turning into
one big block party
with concerts (Aerosmith, Flo Rida, Enrique Iglesias), beer gardens, food trucks and F1 simulators. Also, the state history museum's getting converted into an Ibiza-style nightclub. Stephen F. Austin would be proud.
Oh, hell, get in a race car and go fast.

Yup, you could always just drive a race car.
Sign up online
, and Driveway Austin will allow you to get behind the wheel of a three-seat modified F1 car. Those go fast. Really fast.
Maybe keep your hands at 10 and 2.