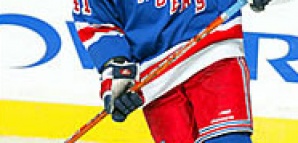 The New York Rangers' loss to the Devils means it is officially off-season, which if you're star forward Jed Ortmeyer means it's time to get out of the rink and into the city. UD sat down with the Rangers' most eligible bachelor to get the scoop on groupies, scoring off the ice and why snowmen don't turn him on.

UD: Congratulations, you guys had an amazing season. How are you feeling about it?
JO: A little tired. We had a great year. Everything is a lot more fun when you're winning, especially with the New York fans.

UD: So, the Devils beat you on the ice—in what game do you think you guys could definitely dominate them?
JO: We could definitely take them in flipcup. We'd probably sweep them, actually.

UD: We take it you're enjoying the city?
JO: Yeah, there's always something going on. The first year was tough because I was the only rookie, and I lived in a hotel for six months in White Plains. It's nice to be able to really experience the city now.

UD: Do you get recognized a lot when you go out?
JO: I think people recognized me more in college. This is such a big city, you kinda get lost.

UD: Have you ever been mistaken for another athlete?
JO: No, but when my hair was shorter, people would mistake me for Nick Lachey. Little girls were always coming up to me.

UD: What's your favorite bar?
JO: I've had a lot of fun at the Hog Pit. Brother Jimmy's is a great place, too.

UD: When it is a big night, where do you go?
JO: Marquee, One, Stereo, Cain.

UD: What's your drink of choice?
JO: I'm a beer guy. Oh, and Crown Royal.

UD: So, we all know you can score on the ice, but how about off?
JO: You want a number?! Oh, man. Put it this way, I did okay in school, and I do okay now.

UD: Where do you take these women out? Do you have a routine?
JO: Tao or Nobu. Then maybe Show. But if we're with a group, I'd much rather go to a bar than a club.

UD: What do groupies do that regular women don't?
JO: They're obviously much more forward, and I guess they wear, uh, inappropriate clothing. But, you know, as a pro-athlete, you have to be careful these days. There's just so much to risk. You have to protect your career. Look what happened to Kobe Bryant.

UD: What's the craziest thing a woman has done to get with you?
JO: I had a girl build a snowman for me with a note sticking out of it that said, "I'm not fat. I'm blonde and good-looking. If you want to get together, here's my number."

UD: Did you call her?
JO: Uh, no.

UD: Do you guys ever go out as a team looking to score? It's probably not as easy as some other pro athletes, like baseball players, right?
JO: Yeah, it's such a big market here. But if you really wanted to be in the limelight and get recognized all the time, I guess you could.

UD: Do you ever wear your NHL jersey out?
JO: No. Never. Although one time when we finished shooting an Extreme Makeover episode, we went to the bar downstairs in our jerseys and EVERYONE was coming up to us. Married women were giving us their numbers and email addresses. It was pretty funny.

UD: Can we borrow your jersey?
JO: Uh...sure.