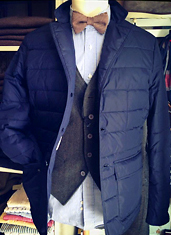 When you get up in the morning, you look in the mirror.
And when you look in the mirror, you like what you see.
Especially when you see a purple velvet tie and cufflinks shaped like geese...
On that note: here comes
Mitchumm Industries
, a California-raised, Italian-bred shop filled with the kinds of things that make you look better than everyone else (like purple velvet ties and cufflinks shaped like geese), online now.
Ties. Bow ties. Cufflinks. Oxfords. That's what you're looking at here.
The reason you're looking at it here: Robert Mitchum. He was an actor. Starred in
El Dorado
. Great chin. Also, he was the inspiration behind a little mid-'70s SoCal T-shirt and swim trunk outfit called Mitchumm. (The extra m is for... legal reasons, probably.)
It went well. Then it went away. Then they started making things again in Como, Italy. Enter: you. Because that brown-and-cream-checked button-down... that's got chestnuts roasting on an open fire written all over it.
And that cashmere camel-colored tie—perfect for any cashmere camel-colored tie situations you may find yourself in. Grenade cufflinks. American flag scarves. It's all very
Lords of Dogtown
meets Fellini.
That old scenario.