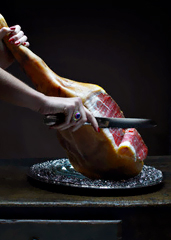 Some call it Barcelona.
Others say Barthelona.
Either way, it's a damn fine place for eating tapas and drinking until all hours.
And we found a nice little transplant tucked into downtown Healdsburg...
Say hola to
Bravas Bar de Tapas
, a lively Barcelona-style hangout employing prized master slicers of jamón ibérico, now open a block from the square.
If
Vicky Cristina Barcelona
were a restaurant, it'd be this. (BYO Penélope Cruz.) It's basically a restored '20s bungalow, replete with a huge backyard and vintage Fillmore posters on the wall.
You'll come here after a hard day in the fields. Or drinking at wineries. Either one. Your hosts: some guys who are skilled in the fine art of hand-slicing jamón ibérico. (Their technical name is hamboners—we'll give you a second to giggle.)
Your best bet is to snag seats at the inside bar near the ham and cheese bar, where you'll practically have the guys carving tableside for you. (It would be impolite to drool.)
Or head to the outside patio, with heat lamps and its own bar. You'll want to consider one of five different gin and tonics—like the
Levante
with orange, saffron and cardamom—before moving on to some Spanish sherry. You'll need to wash that down with
tapas like crispy pig ears
, patatas bravas, croquetas and octopus a la plancha—and that ham.
Yes, need.