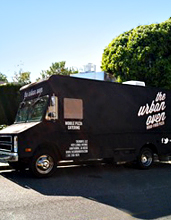 Finally, let's put all that partisan bickering behind us and focus on something we all can agree on:
Pizza.
Pizza is good.
And today, it just got a little more mobile.
Keep your eyes open for
The Urban Oven
, a new pizza truck that's got a wood-burning oven built right in, now spreading the scent of bubbling buffalo mozzarella throughout our city.
You might've heard of the Urban Oven. They've done some pizza catering around town. They top their pies with housemade fennel sausage and Calabrian chilies, or you can get one with gruyère, Yukon potatoes and sea salt. But now you don't have to host some major pizza party to get one. Though we're not in the business of discouraging pizza parties.
Just
follow the thing on Twitter
—you might've heard that's how this works—and when this truck is in your hood, you'll see its chef loading wood right into the oven inside. It'll crackle. And then your Neapolitan-style pizza will be made to order. It'll be crisp. It'll have a hint of sourdough-y flavor. And then you'll carry it triumphantly into your place of business. Fair maidens will swoon. Somebody in marketing will rend their garments in ecstasy.
Or you'll just eat some pizza.