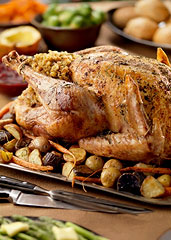 Whatever happens today, one thing is clear.
You've got a box overstuffed with holiday meats in your immediate future.
So there's that.
Take some solace in
Thanksgiving Feast Boxes
, which are glorious cubes full of everything you could ever need for a holiday party of 12—done and done—taking orders now for delivery throughout LA.
First, a tip: read this story quickly. Only 50 of these boxes are available—you can order a small one for six to eight, or a larger one for about a dozen, and have it brought right to your door a few days before Thanksgiving. So you'll want to make that happen online pretty much right now.
And if you care about what it is you're ordering, it's a box. A big one. Inside is everything you're eating on Thanksgiving. Just... everything. A turkey. An Earl Grey brine from Lindy & Grundy. And celery-sage stuffing and a sweet-potato bake and orange-cranberry relish and pie. Pumpkin, of course. They're not heathens.
Yes, you'll technically be cooking a lot of this stuff. But every last ingredient you need is in this box, and they've made the prep process as painless as possible. And if you decide to let your guests in on your secret, you can tell them everything's local, sustainable, artisanal... and that 300 kittens were sacrificed in this meal's name.
Just to see if anyone's paying attention.
Note:
<a href="http://www.outoftheboxcollective.com/summary.php?go=products&cat=144" target="_blank">Thanksgiving Feast Boxes</a>, $375 for six to eight people, $475 for 10 to 12, must order five days in advance, deliveries begin November 19