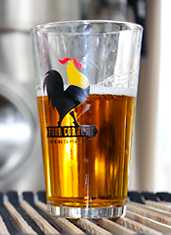 Today, let's discuss the merits of building bridges.
No, that's not a thinly veiled political reference.
Believe it or not, we're talking about actual bridges.
You know, civil engineering, trusses and whatnot.
And how sometimes, when you're really lucky, building one gives you direct access to a brewery.
Like
Four Corners Brewing Co.
, a massive blue beacon just across the Margaret Hunt Hill Bridge that's conjuring up a pair of new native beers, available later this week at area bars.
The Dallas beer scene is... small. You can count the breweries on one hand. So percentage-wise, this place is giving you, like... a bunch more breweries. And this one's stashed inside a warehouse. Also inside that warehouse: all the shiny contraptions and gadgets that produce two really drinkable beers they're calling All Day Ales. (Challenge accepted.)
Those beers:
Local Buzz
, a golden ale crafted from rye grains and honey. And
Red's Roja
, a malty and hoppy ale that's great for drinking on, oh, let's say this Thursday, when both beers are unveiled at the Common Table. So start there, and down the line, look for them at fine suds-slinging establishments like Eno's and Goodfriend Beer Garden.
Or just visit the brewery. Because beginning November 17, Four Corners is open for tours. So stop by to see their digs, sample their wares and gently caress a mash tun or two.
Or three. Get crazy.