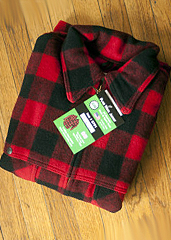 It's time to stand up.
To make your voice be heard. To raise the flag of freedom and exercise your God-given right as an American.
Yes, it's almost time to vote...
Between barn coats made in Tennessee and wool sweaters made in Maine.
You can vote for that other thing later.
First, fulfill your civic duty at
Inland
, a web-based marketplace full of warm, fuzzy and 100% American-made things to put over your torso for the next few months, online now.
Think Abe Lincoln. Think apple pie. Think log cabins occupied by guys picking buckshot out of venison and wearing hats with earflaps. And then think about buying a jacket that looks like how all of that feels.
Seriously... think about doing that.
And when you do, try your best not to complicate matters. Just feel that chill in the air, recognize that something needs to be done about it and have a look around—a crewneck sweater from Harmony, Maine. A red-plaid wool jacket from New Hampshire that automatically turns you into a lumberjack by default. There's no wrong move here.
Might as well even grab a canvas duffel bag or a pocketknife with carbon steel blades while you're at it.
This isn't damn France.