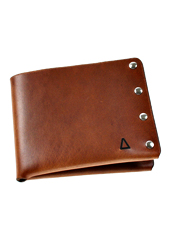 Well, it's Friday.
Which means we won't be seeing you for a couple of days.
Have a good weekend, though. Say hi to some half-naked policewomen for us.
Oh, but before you go, there's something we need you to take a look at.
It involves leather. And oil.
Which... kinky. But no, it's actually wallets.
Specifically, the kind that come from
Avund Goods
, a Savannah-based operation that's meticulously hand-stitching leather wallets, vegetable-tanning iPhone sleeves and generally improving the quality of your cowhide-based life, available now.
This is the story of a couple of SCAD graduates who got together and started making leather things. Dapper things. Things that are hand-stitched with waxed linen thread and rubbed down with oil and beeswax.
The kinds of things you don't want to be caught without the next time you take a phone call. Or exchange currency. Or pull out a pair of sunglasses and put them on your face. Just peruse the site and take what you need. Like an iPhone sleeve. Or a Horween leather iPad sleeve. Maybe a vegetable-tanned sunglasses case. All justifiable necessities.
But most likely, you're here for one of those wallets. And hey, you're in luck. They've got three styles:
US
(for times like always),
Global
(for times like traveling) and a classic card holder...
For times like paying for dinner.