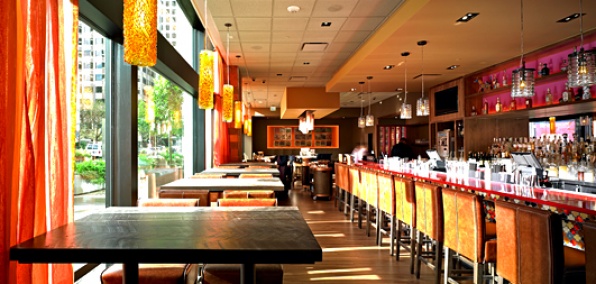 [Option_A_Left_Column]Here we are: Game 7.

If the Giants win tonight, you'll need somewhere to celebrate before Game 1.

This place should do.

But if the Giants don't win tonight (perish the thought), you'll need somewhere to lick your wounds.

This place should do.

We speak of Rosa Mexicano, a new haven of tequila and Mexican food that's ideal for south-of-the-border-y celebrating and/or drowning your sorrows in guacamole, opening for dinner this Wednesday in SoMa.

So the name. You might know it. They have outposts in NYC and LA, and if you've been, you'll pretty much know the score here. House frozen margaritas. Ceviche. Guacamole made tableside. The kind of place where you might loosen your tie at the colorfully tiled bar and down a tequila flight with a few colleagues after work. A good kind of place.

But something you might not recognize: the waterfall. See, they have one here. And it's really something—bedecked with rows and rows of silver figurines inspired by Acapulcan cliff divers. Grab a table in the dining room, let the waterfall bubble in the background, and order up a specialty tequila like the one aged for a year in French oak and racked in Bordeaux barrels.

Tequila and waterfalls just belong together.