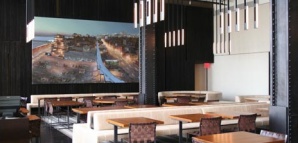 Apparently, you should always know where your beef has been before you bite into it.
At least that's the philosophy at
Craftsteak
, Tom Colicchio's new offshoot that takes the art of beef reconnaissance to new levels. 
Staked out on a corner next to
Del Posto
and across from
Morimoto
, the dramatic steak spot has a vibe ripe for power dinners, groups, and trendier dates. A bi-level wine "cellar" divides the main dining hall from the front lounge (where you can snag no-reservation full-menu seating), and a sexy private dining room encased in tempered glass seats 30 for private parties.
But back to the beef.
Craftsteak does intense "beef provenance," which means they know the lineage of each piece of beef that ends up on your plate, based on breed, where the steer grew up, how it's been fed, and its family lineage (cow family trees provided upon request). A must-try is the
Hawaiian Grass-Fed Angus Sirloin
, which you won't find anywhere else in the continental U.S. (it has a uniquely intense flavor different from most corn-fed steaks). The
Hereford New York Strip
is dry-aged in-house from a range of 28 to 56 days (we're told the flavor increases daily). For the premium stuff, head straight for the
Wagyu Beef
, which you can order by the grade, ranging from 5-10 (10 is the "platinum" grade, with highest marbleization and flavor). 
Craftsteak has also finally answered your prayers with three
Wagyu Beef Tasting Menus
. Or, if you're indecisive and hungry, ask for the secret off-the-menu beef omakase—you can choose your own variety of meats or have the chef do it for you. Lunch arrives by late May, complete with specially-blended Wagyu burgers.
We eagerly await the Wagyu steak and eggs breakfast.