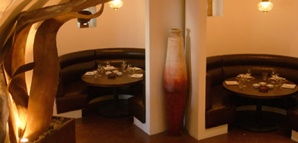 A home is not officially a home until its first house party.

Which is probably why the new Mexican restaurant Casa is now taking reservations for a New Year's Eve preview bash before opening in January.

The new stop from Blue Velvet chef Kris Morningstar, Casa will be slinging tacos for workers in the Disney Hall's shadow by day...then it'll spiff up at night. (The taco line becomes a chef's table with an open-kitchen view. Well played.) Once the weather warms up, you might favor an outdoor table by the firepit (or the indoor-outdoor bar), but for now you'll probably prefer one of the walled-in booths inside, under a giant agave-plant sculpture. (Easily one of the finest giant agave sculptures in town.)

After easing out of your day with a Smokey Margarita (with herbs, spices and a twist of scotch), you'll probably be ready for some Tacos de Lengua (beef tongue, chili-raisin salsa, toasted almonds and marjoram) or Conejo (braised rabbit with chestnuts).

A table reservation for four on the last day of '08 will get you a bottle of Milagro Silver and some mariachis, plus everyone will be doing a shot at midnight. But if you've already made your plans for the big night, they plan to be up and running the week after—when everybody's back at work.

And can look at a bottle of tequila again.