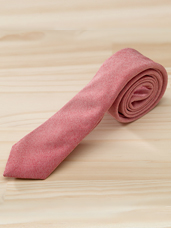 It's a crisp fall afternoon in October.
The smell of pumpkin is in the air. Children play in piles of red and yellow leaves. Everyone's walking around with these really nice carryall bags and chambray ties from Vermont.
Oh wait.
Don't tell us you don't have any carryall bags and chambray ties from Vermont...
Never mind, let's just get you over to
Field Aesthetic Mfg. Co.
—it's a web-based shop where you can get things like carryall bags made from retired military tent canvas and chambray ties made from... chambray. It's also online now.
Vermont-made tremendousness. That's what this place is all about. So you'll definitely catch a strong to very strong log-cabin-and-maple-syrup vibe here. Fair enough. It's New England. Keep moving, though. It only gets better from there.
Press on past the rustic-looking hand soap. Take a quick peek at the bright-red watch cap that looks like it was borrowed from Steve Zissou's head. And when you come to the sections marked "Convertible Carryall" and "Slim-Cut Chambray Necktie"... stop and have a closer look around.
Because those are the things that'll be getting you through autumn in one piece. One ruggedly handsome, water-resistant, heated-rooftop-commandeering piece. The bags are decked out with brass hardware and military-grade canvas. The ties are all gingham and houndstooth-y. And everything's just sitting there for the taking.
Well, for the buying. But, you know, dramatic effect and all.