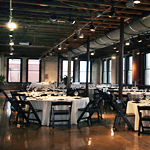 SIXTH SENSE
The Sixth Floor Museum
Legend has it: This is where Lee Harvey Oswald was when he shot JFK. Allegedly.
Tricks/treats: The top floor's an industrial loft space that looks over Downtown. It's a blank slate, so go nuts. Full bar, fun-size candy. Zapruder film screening.
For channeling: Conspiracy theorists, enemies of the state and patsies.