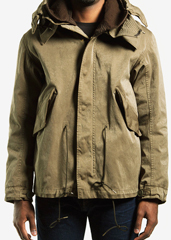 That chill in the air... that means it's fall.
So you know what's right around the corner.
Correct: excellent sweaters.
So we turn to the people who know something about chills and excellence:
Nomad
, an online shop meticulously curated by our friends, brothers, allies and bacon-makers to the north, online now.
Oh, Canada. With your hockey and very cold weather, it's really no wonder you'd be ready with a shop full of cozy clothes. But these are not threads for Bob and Doug McKenzie.
You'll find nice scarves from Canuck designers Wings + Horns ready to protect your tender throat from autumn breezes. But we'd hate to send you out with only your neck in good shape. So if you need a warm fleece sweater from Reigning Champ, they'll have those, too.
Of course, a little Canada goes a long way. So you'll also find stuff from the outside world, like blazers from France's A.P.C. for that first casual holiday get-together. Or you can pick up a pair of black, Chicago-winter-ready Grasmere Super Boots from British shoemaker Tricker's.
And in November, when you're freezing-cold waiting to bag a giant turkey for your family's Thanksgiving, you'll be grateful you had the foresight to order a camo jacket they have from Comme des Garçons protégé Junya Watanabe.
It can get chilly in Whole Foods.