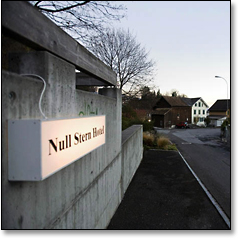 Adventure-seeking in Switzerland generally involves a helicopter, two skis and a parachute. But to really get the adrenaline pounding, we've always felt there's nothing like an air raid. Or at least the shelter from one...
In the Swiss town of Sevelen, not far from the Austrian border, is the new
Null Stern Hotel
—translated, self-deprecatingly, to "no stars." But what it lacks in thread count, it makes up for in novelty: The Null Stern is a revamped Cold War-era nuclear shelter, a genuine bunker buried deep under the Swiss mountains. (Even neutralists need a backup plan.)
Designed by conceptual artists and twins Frank and Patrik Riklin, the Null Stern is equal parts art installation and unlikely accommodation. (Think of it as crashing at the museum.) While you're probably safe from the air strikes, there are other surprises: You'll spin an ancient bike wheel called a
Glucksrad
for your pick of beds (it's sort of like
Mattress of Fortune
), and an on-call, bow-tied butler named Ruedi will bring your nightly hot water bottle. But unlike other
pseudo-museum-hotels
that charge Four Seasons rates for the concept-art "experience," the Null Stern sets a very self-aware fee of six to eighteen euros per night.
Which is a fair price for a hotel or a bomb shelter.