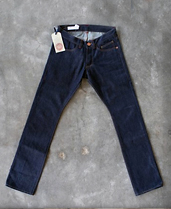 The Chicago Marathon: it's incredible what people will do with their legs this weekend.
It's almost as incredible as what some other people are about to do to yours.
Meet
Detroit Denim
, an exquisite line of selvage dungarees direct from the Motor City, soon to hit Chicago.
Don't think of these as just another pair of jeans. Think of them as a Bob Seger song in denim. A '68 Dodge Charger with hand-hammered copper fittings. A Harley-Davidson with... asymmetrical back pockets. Well, okay, just think of them as a really well-made pair of jeans.
In fact, we designate these as your official new date jeans. Dress them up with a sport coat for dinner. Dress them down with a flannel shirt for apple-picking.
See, a lot of love goes into each pair. They're made in a small factory in Detroit that uses raw selvage denim from a mill in North Carolina. They come in two fits (slim and semi-slim) and the denim has never been washed. Yes, they totally trust you to break in your own jeans.
Oh, and one other detail that will catch your eye: the bright-as-a-new-penny copper buttons are from a Connecticut company that made coat buttons for Union soldiers in the Civil War.
So you'll definitely want to wear these to
Lincoln
.