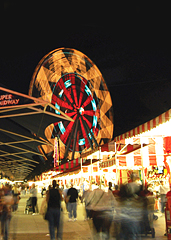 Today: all about making an entrance.
At the State Fair.
Random, we know.
But you're not the type to just "show up." And "buy tickets."
Not when there's a perfectly good helicopter available.
So check out the
Big D High Roller Package
(unfortunate name, but bear with us...) at Hotel Palomar, a weekend of luxurious wining, dining and flying to the State Fair via private chopper, booking now.
It all starts with weekend reservations for a penthouse suite. Then, some perks. Like breakfast in bed. And a four-course dinner at Central 214. And a midnight snack of champagne and chocolates (also available in bed).
But you probably want to know about that helicopter. The deal: when you're ready to descend upon Fair Park, call the front desk. They'll call your pilot. He'll fly you to the State Fair. Once there, hop/parachute out and do fair-type stuff. Eat fried things, go on the Ferris wheel, spend the $1,000 you're getting in food and ride coupons...
And during the weekend, should you need to go anywhere else, no problem. You'll have a chauffeured Rolls-Royce Phantom.
And should you need to wear clothes, well, this thing also includes custom-fitted alligator boots, a Stetson and jeans.
One can never have too many custom-fitted alligator boots.