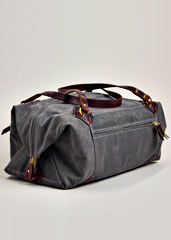 Holiday travels: still a ways off.
Really, don't even give it a second thought.
Though... maybe give it a first.
Because before you know it, you're going to have one of those long fall weekends.
And you're going to want to go away. Somewhere exotic. Somewhere beachy. Somewhere heavily populated by coconuts filled with rum.
But before all of that, you're going to need a new bag to pack.
So meet
Tanner Goods
, a collection of rugged leather rucksacks that are made in Oregon, meant for the wilderness and ideally sized for overhead airplane compartments, available online now.
Somewhere in Portland, there's a brick building near a brewery (who knew). On the outside, it says Tanner Goods. On the inside, it's filled with things like sturdy bags, leather boots and waxed-canvas dog bowls. And we're telling you this because... your dog is kind of a snob. Also, they just started selling this stuff on the Interwebs.
Your play: go to the site, leisurely browse and find something you can throw your clothes into before a lost weekend/a New Year's in Vegas. Like a twill canvas and Horween leather duffel that doubles as a backpack.
Or if you're in a premature gift-giving mood, there's this: a felted, wool-lined camera bag with a customizable pocket sleeve. You do have that one friend who's an amateur photographer.
And those three friends who love customizable pocket sleeves.