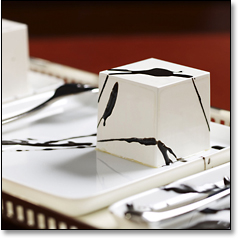 Wrapping up a crazy year, it's been harder than usual to figure out a way to really go out with a bang.
But we've got an idea that should do it—the 35-course feast (that would be the entire menu) at Michael Mina's sprawling
XIV
.
An unprecedented answer to what happens when you sit down, settle in and realize that the whole menu looks good, ordering "The Gamut" means that over the course of an epic few hours, you'll get small bites of everything you see listed before you.
Salt & Pepper Big Fin Squid
.
Caviar Parfait
.
Pumpkin Dumplings with Stewed Cherries, Brown Butter and Sage
. And after 31 other plates of shellfish, vegetables, seafood, poultry, meat and cheese, maybe a
White Chocolate Cube
filled with cassis cream, hibiscus, blood orange and beet to finish. That should do it.
They recommend you share the experience with a date (done and done), and at $250 total for you both, it's relatively reasonable to concoct a showstopping date for the books.
Unless you get carried away attempting 35 wine pairings.