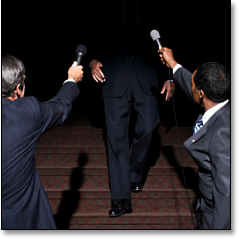 We heard you're going to Washington for the inauguration. You and about fifty other people...for every hotel room in the District.
The fight for the pillow mint is going to get ugly.
So allow us to introduce
CrashTheInauguration.com
, a user's guide to what's being called the Woodstock of Washington (the part of Grace Slick will be played by Oprah).
Consider CTI a "Sublets / Temporary" section on Craigslist, with a dash of Hotels.com and a pinch of Facebook. So far, about 850 Washingtonians with a little extra room have listed spaces for rent along with a mini profile of themselves. Options range from a $70-per-night room in an apartment near the National Mall (hope you like cats...and air beds) to a $3,000-per-night stay in an Arlington, Virginia manse suitable for you and eight other Obamaniacs. (After all, Scarlett Johansson may need a crashpad.)
You'll reserve your room with a credit card, but the funds aren't transferred until after your stay (mitigating the risk your Presidential Suite turns out to be more of a Press Secretary Broom Closet). We admit, it sounds a bit sketchy, but the site has a track record: During the Democratic National Convention, some 400 Coloradans turned their air mattresses into moneymakers via a sister site.
And one guy apparently threw in a senatorial seat...