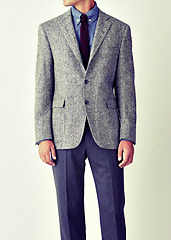 Dear Mr. President:
We just saw the latest numbers. Things are looking good.
You're
looking good. But you still have 39 days to go. It's no time to get cocky.
Okay, maybe a
little
cocky.
So here it is, our quadrennial strategic style advice:
Hart Schaffner Marx for Steven Alan
, a blend of the classic LaSalle Street power suit and some fresh-faced sartorial swagger, available online now.
We don't need to remind you about your affinity for HSM, the 125-year-old downtown clothier (if so, take a look at your inauguration pictures). Steven Alan, always looking to add a bit of a flourish to classic Americana (a sleeker line here, a thinner lapel there), collaborated on this line, hand-selecting all the worsted wool. We know you're too busy to select your own worsted wool these days.
The collection is small—three blazers, one pair of trousers, three suits—but versatile. The two-piece Glen plaid suit says competently cool during an address to the Rotary Club of Jacksonville, but take off your tie and you're ready to hoist a few at a Charlotte truck stop.
And if during an Ohio stump speech you let it slip that your French face cashmere/wool blend sport coat was made in America, so be it.
Actually, better leave the French out of it.