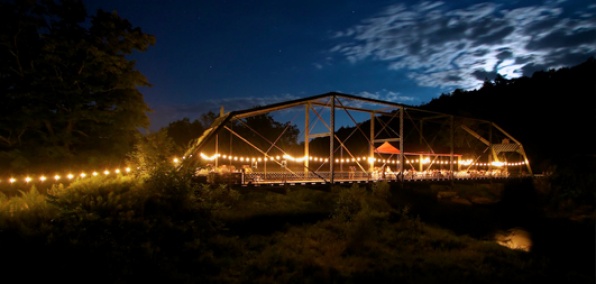 Bridges.
You've been so busy crossing them, holding your breath on them and jumping them on red-white-and-blue Harleys that you've totally overlooked their potential to be restaurants.
Behold
Dinner over the River
, a group of epicurean rogues putting on dinners literally on a bridge in the Catskills. Oh, and
UD Perks
has saved you a reservation for their sold-out October 6 event.
If you're wondering how a bridge becomes a restaurant, it's pretty simple: these guys found the most picturesque bridge on the Neversink River (great river branding, by the way) and thought it'd make a good place for a feast. Then they talked to some of New York's best chefs and convinced them to come out there to cook it.
The result: five-course meals like this next one put together by a former Bouley sous-chef. Your only duty is to pick up your ticket on Perks and show up (we can also arrange a ride if you need). Once you do, you'll be greeted with some Catskills hospitality in the form of a cocktail.
Then have a seat. Take in the splendor. The chirping birds. The rolling river. Comment on the leaves to the bright-eyed stranger next to you. Mmm, yes, they are changing. Beautiful. Oh really? Fall's your favorite season, too? Is that a northern reticulated chipmunk? That kind of thing. Then comes the meal (top secret). And the wine.
And finally, the bungee-jumping exit you've been planning all your life.