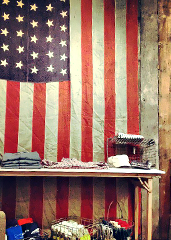 We need to address something with you.
It's about your leather camping boot situation. And your vintage overalls situation.
And any other situation that pertains to gloriously handsome American-made things that have somehow failed to make their way onto your body.
Unforgivable.
Especially the overalls part.
It's like... who the hell doesn't wear overalls.
Raise a flag and beg for forgiveness from
Independence
, a Chicago-based munitions depot specializing in strictly American-made head-to-toe goodness for your clothes-wearing pleasure, launching online any day now.
If Sam Elliott's voice were a store full of denim and boots and shirts, it would be this one.
It's all brought to you courtesy of the patriotic leatherheads behind Oak Street Bootmakers. They make boots. In Chicago. Then they decided to build a brick-and-mortar spot and fill it with things like slim-fit oxfords from Gitman Vintage, denim from Imogene + Willie and (yep) those dashing Post overalls you had your eye on.
And then they put it all online so you can have some, too.
There's a little bit of everything going on here (magazines, wool blankets from Faribault Woolen Mills... basketballs), but all you need to concern yourself with for now is those things that will improve your chances of looking better than everyone else at all times.
No offense to magazines and basketballs.