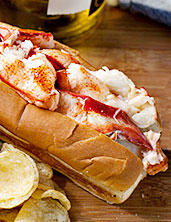 Places you've gone to satisfy a craving for some fresh Maine lobster:
1) Maine.
2) A Maine-themed food truck.
3) An ultra-lounge in Pasadena.
[
record scratch
]
Presenting
Cousins Maine Lobster at Live Mixx
, a curious culinary takeover of a Pasadena nightspot by a lobster-truck crew—it's now way easier to get yourself a lobster roll, so just go with it—opening Friday.
You might not be super-familiar with Live Mixx. It's a lounge on Colorado Boulevard in Pasadena. So... yeah. But you are familiar with lobster rolls. And lobster ceviche. And lobster tacos. You might've even gotten all of these things from the Cousins Maine Lobster truck, which gets its lobsters over from the East Coast within 24 hours.
Anyway, that crew has taken over part of this lounge (including, most importantly, the kitchen part). So now next time you absolutely need some non-mobile lobster, you can go inside, head to the counter and
order a pile of lobster-y goodness
without going through the whole rigmarole of chasing the truck down on Twitter and then on a freeway.
Progress often resembles lobster rolls.