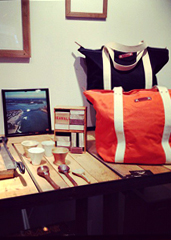 Welcome to the first day of the rest of your week.
Should be a great one.
Let's see, there's the office. Discovering a new webstore out of Maine that has a bunch of really comfortable fall clothes...
Actually, that's probably it for today.
Because something tells us you'll be spending a good bit of time plowing through the virtual pages of
Seawall
, your new fall base camp for such Maine-made delights as red plaid button-downs, bomb-proof leather bags and the occasional jar of... medicinal bee pollen, online now.
Portland, Maine. That's where these guys are. And if you could somehow bottle the essence of a lighthouse, a well-worn pair of jeans and an Instagram of the Gorton's Fisherman eating a lobster roll, that's what this site is.
Just some really plaid, really unshiny things to tailgate and/or burn leaves in. Like a brown, red or blue plaid button-down hand-stitched in Maine out of Japanese fabric. Or a pair of dark green Levi's and a T-shirt with the Seawall wave logo above the pocket. Throw them over your body, do some September-y things and don't make a big deal out of it.
And should you find yourself in need of an orange waxed-canvas tote, a big book of Polaroid shots or a terrarium filled with moss gathered from the midcoast region of Maine, they've got that stuff, too.
Thank God. You were running dangerously low on Maine moss.