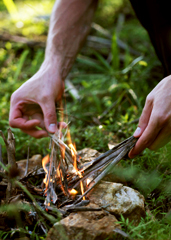 Don't take this the wrong way, but you've gone soft.
Three months of Adirondack chairs, gentle pool currents and parasoled cocktails will do that.
Time to go in... another direction.
Ready yourself for
Squad School
, five days of Army-sniper-led survival training in the unforgiving woods of upstate, accepting students now for an October excursion.
This all started with a guy who spent time in Iraq and Afghanistan as a sniper, then made his way down to Central and South America. Look, it's a little classified.
Now he's doing this—a crash course in camouflaging, sniper math, shooting, makeshift-shelter-building, a not-insignificant amount of butchery and general Bear-Grylls-meets-Rambo-type stuff.
You'll spend three days at an Ithaca base camp, soaking in the knowledge. And shooting rifles. But the last two days, you're out there in the woods, living it. Foraging for branches to build shelter with. Some light patrolling. And... we'll just lay this right on you. You're going to kill a chicken on this thing. Which is dinner on that particular evening. (Just close your eyes and think of Hill Country.)
You're free to bring whatever you want on the missions (like your own gun, or someone else to do all this for you), but it's probably best to keep as little gear as possible.
And don't expect to come back alive if you use the word "glamping."