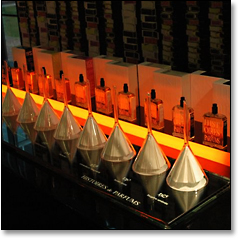 You've dug through your share of history, whether it's in book, movie or channel form, but it always seemed to be missing a certain...
je ne sais quoi
. Maybe that
je ne sais quoi
was
eau de toilette
.
Presenting
Histoires de Parfums
, a series of colognes based on the enticing manscent of some of the most colorful and alluring bad boys of all time.
This quick olfactory history lesson from French parfumier Gerald Ghislain introduces you to a few characters you'd do well to emulate. The highlight is certainly Casanova—apparently the hints of amber fern were a big part of his appeal—but having him as a
role model seems like a recipe for exhaustion. The nautical-smelling Jules Verne might be more appropriate if you're the globetrotting sort. As for the woodsy Marquis de Sade...let's just say he threw some of the century's best (and best-smelling) parties.

Of course, all the top notes, middle notes and bottom notes are scrawled out on the front of the bottle, in case you feel like judging by the scent instead of the personality. But where's the fun in that? And if you have a lady friend in need of historical inspiration, there's a set of female scents ranging from the fiery (Colette) to the downright dangerous (Mata Hari).
 
As you might expect, telling the difference can be crucial.