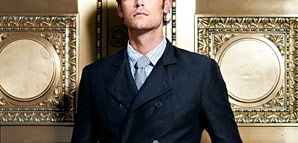 The passing of the trucker hat as a fashion staple left many of us dejected, confused and longing for answers.

What new "trendy-ugly" badge of cool will emerge to save us? What bizarre (yet functional) blue-collar gear can we pass off as stylish? Should we just give up and imitate a different member of the Village People every year?

Fortunately, Operations, a new blue-collar chic boutique in Soho, may have a few unique answers for the man who likes to be in uniform.

The store's 23-year-old founders scoured the globe to find the best in workwear fashion. The result is a unique and eclectic collection including: a Portuguese welding shirt ($78) with snap buttons that allow for easy tearing open (because let's face it, that doesn't work well with your Thomas Pink shirt), a neon orange Finnish construction worker jacket ($389) that you can pay for by moonlighting as a highway cone and the ultimate in design-meets-function—Scandinavian firefighters' fire-proof underwear ($65).

They also carry more socially-functional items, like a Czech paratrooper jacket [pictured] ($245) and a pair of triple-stitched masonry pants ($255) tough enough to withstand the roughest New York nights.

Clothes may not make the man, but at least they can fireproof his bits and pieces. And that's a victory for anyone who's ever welded drunk.