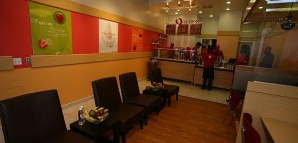 In times like these, you've always gone for the Scotch, straight up. But this year? You're heading for the source.
Just a hop north from Heathrow is the legendary Edinburgh, perched on the craggy Scottish cliffs. Equal parts cultural mecca and radical hotbed, Edinburgh is like a Scottish San Francisco (with a few slight variations). And amidst the medieval Old Town and ancient mountaintop castle, the city goes all-out for Christmas—capping things off with a giant, ultra-lit Ferris Wheel in the city center. (A huge tree was just way too obvious.)
As for your digs, you'll be crashing in the town's newest boutique:
Hotel du Vin,
whose building once housed the lunatic asylum wing of the Royal Infirmary hospital. (Interesting backstory,
check
.) Thankfully, they've graduated to your preferred form of mental health management—liberal libations—with an impressive wine cellar, Laroche tasting table and a well-stocked whiskey snug. Find yourself a good sipping partner, order up a few Rusty Nails and let the stories, tall tales and flat-out lies start to flow. You just might find it's the perfect little nook to laugh away any and all your troubles this year.
It beats the heck out of a padded cell.