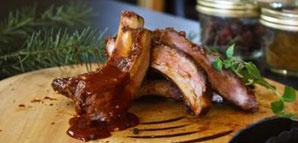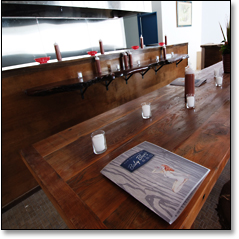 A hearty plate of ribs with a little mac 'n' cheese is an underrated simple pleasure.  
Which is why we'd like to suggest a trip to
Baby Blues BBQ, the SF offshoot of Venice Beach's original Baby Blues BBQ, opening Wednesday in the Mission.
 
Since Blues is from SoCal and not the South, it isn't beholden to any regional traditions—think of it as a hybrid mélange of the best barbecue from North Carolina, Texas, Memphis and Kansas City.

Inside, you'll sense a Johnny Cash-meets-the Ramones sort of soul-food, hipster vibe. Take one of the stools at the raw marble bar or watch the 'cue-ing action at the reclaimed redwood counter in front of the open kitchen. There are also tables made using recycled factory parts for some industrial grittiness—think: manhole covers and gear drives—with local art on the walls to balance things out.
 
As for the food, try The Deuce, a combo of meaty Memphis-style ribs and grilled prawns, with a drizzle of the house-made (Carolina-style) XXX Porno hot sauce, or the Get Down Miss Brown Pulled Pork—with meat that's marinated overnight in a 19-spice rub, then slow-smoked for almost a day in a bath of Guinness until it falls off the bone.
 
Proving once again that bathing in Guinness is a great idea.