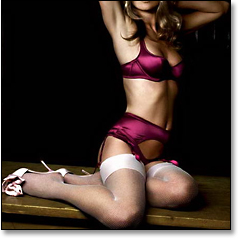 We just talked to your girlfriend. She knows times are tough, so she's not expecting much for the holidays. Good thing we know a place that excels in nothing much.
Introducing
Agent Provocateur
, the first Chicago boutique for the upscale London-based lingerie brand, now open in a subterranean lair on Oak Street.
Agent's black-and-pink boudoir interior, all smoky mirrors and rose-patterned carpet, is like the repressed Anglo-Saxon collective id materialized in retail form. As you browse the skimpy collection of tastefully sexy robes, fishnets and thongs—each bearing a woman's name (the Monika, the Joan, the Naomi...bringing back a few memories?)—things appear as well-mannered as your average Gold Coast pajama party.
But as you start to scrape below the silky surface, you'll soon find a few more titillating pieces of expression: that Swarovski-tipped retractable riding crop not suitable for equestrianism (at least not the kind on ESPN2), a silk blindfold with perhaps the naughtiest words ever committed to pink script, and silk-tasseled handcuffs guaranteed not to rattle the bedposts.
Unless someone really wants them to.