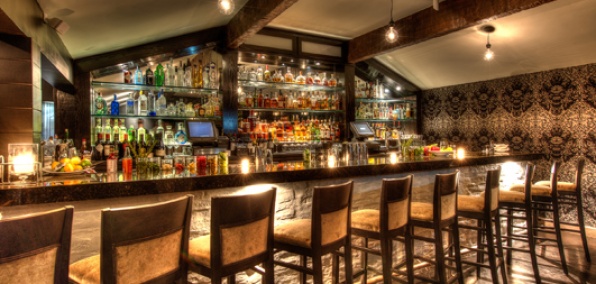 You've just rushed past a wall of fire. Raced under a roaring waterfall. Careened over a slab of granite.
Either you're Indiana Jones, or you just stepped into a pretty intense steakhouse for some steak.
Cue the triumphant soundtrack for
Smoke
, a DJ-driven shrine to fire, water and the occasional morsel of Wagyu, soft-opening Friday night on Melrose.
Think of a classic, subtle, white-linen-y kind of steakhouse where you'd take the grandparents. Yeah... this is not that. This is like a nightclub with steak knives.
You'll come here with a lascivious date, or with a bunch of friends when you're all looking for... dates. Out front: there's fire. Right on the facade. (Or there will be, when it's installed in a few days.) Inside: a loungey, DJ-y sprawl of interconnected rooms, lots of black and gray, dark corners, waterfalls and wire chandeliers. Pretty much everything says tipsy foreplay. Except maybe the chandeliers.
Start with a
Canard aux Cerise
(there's gin and duck fat) in the bar to the right—that's where the DJ is—before claiming your table in the main room under the long, peaked skylight that lets in more darkness. On your plate: maybe a 28-day dry-aged Wagyu, and probably some lobster twice-baked potatoes. Almost
everything on the menu
hits the big grill here, giving it all an essence of smoke.
Ah, so that's where they got the name.