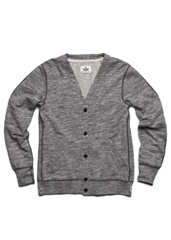 It's not always going to be like this, you know.
All that sun out there. Those pools filled with shiny people. The refreshing zing of an ice-cold Zima.
Don't tell us they stopped making Zima...
Anyway, truth is, that's all going away soon. It's almost time to find a fireplace and get comfortable.
So the sooner we can get you into a bunch of dapper-looking soft things, the better.
Loosen a drawstring for
Reigning Champ
, an online repository bubbling over with all manner of fleece-y, twill-y, sweatpant-y goodness, available now.
This is the kind of gear one might catch a Kennedy traipsing around in on a crisp fall evening in Nantucket while having a scotch-soaked think in a parlor. Basic stuff. Stuff that doesn't make it seem like you're trying too hard, yet still says "Hey, check me out. Check out this really comfortable alpine black cardigan I'm wearing" at the same time.
It's all brought to you courtesy of a few leisure-minded Canadians who just decided to put this stuff on the Internet after five years in the comfy-things game. So feel free to go ahead and fortify the fall side of your closet with anything from handmade twill terry hoodies to long-sleeve crewneck raglan tees.
And some herringbone fleece sweatpants. You'll need those, too.
It's that or one of those butt-flapped onesies.