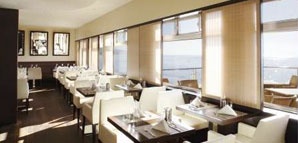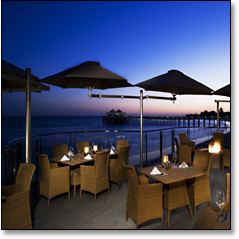 Pete Wentz's graffiti art, Blagojevich's phone calls—for better or worse, secrets rarely stay that way.
So now might be time to visit Geffen over on the Malibu shore. Inside his hotel, the
Carbon Beach Club Dining Room
has quietly opened to the public.
The hotel itself debuted last year, a quiet but polished hideaway on his patch of beach—but you had to pony up for a room even if you just wanted to enjoy a wine-soaked dinner on the patio. (Come high tide, the waves crash up directly underneath you.) But now that all the gears have been metaphorically greased (permits, new chef, new menus), you're free to come by for dinner that's literally on the water. Only in Malibu is winter good timing for this.
That new chef (formerly of Allegria, not far away) will now bring you
Hawaiian Prawns with Champagne Dressing
to start—though, really, you probably started with an
Old-Fashioned
or a blackberry-filled
Black Margarita
—before your salmon, steak or Barramundi filet. Of course, if you and your date do find yourself needing a room...
We're sure that can be arranged.