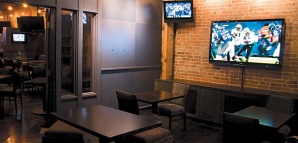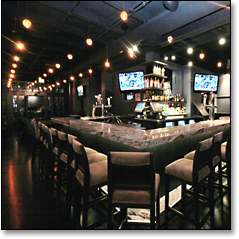 The Bears have had a good week so far, but they still have to take on the Saints, so don't get too comfortable. Actually, scratch that. Your name's not Kyle Orton. Let's get you very, very comfortable.
Introducing
Theory Sports Bar & Grill
, opening Thursday in River North, just in time for the game.
With smoky gray walls, ultrasuede bar chairs and a field of blown-glass chandeliers hanging above, Theory's like the gift you didn't know you were hoping for: A sports bar you could actually bring a date to.
That's not to say you have to bring a date here, and it's not to say the place isn't teeming with huge TVs, allowing you to track yardage at any angle, at any time, during any conversation. (Surreptitiously, of course.) In addition to the requisite wings, you'll have the option of more refined offerings like maple-wrapped, apple-wood smoked ribs and lump crab cakes. Tackle them from a leather-lined, semi-private booth—each is outfitted with a private screen and remote so you can tune into the game of your choice. (Or dramatically turn the screen off, to focus all on your boothmate.)
And then there is the cushiony 18-person back room, Theory's equivalent of a skybox. With a 65-inch LCD, we could see you using this for more bro-oriented events like Wii night and Fantasy Football drafts. Snag it for the holiday party, and you'll be the office MVP.
Extending your streak.